Duck Dude and I love being outside. We love hanging out in the backyard, we love the trails behind our house, and we love grilling anything!!
When we moved in, we had a terrible, rickety tin patio cover that looked like it was smiling at you because it was warped so badly. There was also this black fence that housed their dogs. We've since learned their dogs were so mean they had to be kept in that black fence rather than the backyard. Look! I found the old picture online (thanks zillow)!!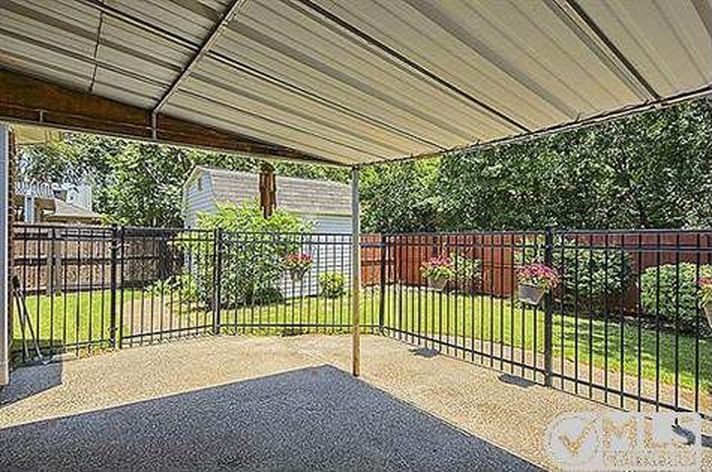 We immediately took down the fence. It made the backyard look 3 times as big. Next was the patio cover. See ya. Wouldn't want to be ya.. That made our backyard look like this.
We got the table from Duck Dude's parents and it's lovely. We sit out there with friends and family, but knew we would enjoy it more if it was covered. Duck Dude talked with a friend of his who owns his own landscaping company out in Lubbock. Two weekends ago he came down and the TWO of them built our entire pergola!!!
Y'all. It's so, so pretty! It's 20 x 16 feet of cedar glory!!! The biggest difference so far has been the temperature of our downstairs living area. It's so much cooler inside from the shade of the pergola outside!!! Which has been fantastic seeing it's been 104+ for the last 10 days! Yes, the boys chose to build this thing on the hottest days Texas has seen so far!
But this thing was no where near finished... not when you're married to Duck Dude. No sir. It "needed" a roof, lights, and fans!! So, the next weekend, the family got involved. Friday night included the guys coming over to build the roof. Sister Laura Pocket and I were outside for a little bit, but we soon figured out we could sit on the guest bed upstairs and have a much better view!!! :)
Saturday included Duck Dude's dad coming over to do all the electrical "stuff." While they did that, the girls and Naked Nick ran errands to Wal-mart and Lowes and other Wal-mart and Sam's and back to Lowes.. and back to Wal-mart...... but! We found the perfect new cushions... AND Naked Nick helped me get them for 50% off!!!
So, after two weekends, one hose down for heat, 5 stitches for a hammer to the chin (sorry Brandon!), approximately 112 mosquito bites later... we have the perfect backyard paradise for us!